A Wonderous Vacation
I see it has been too long since I blogged last. So much time was spent on appts, and preparing for the secret vacation.
You see, a plan was put into place to go spend Mike's parents' 61st anniversary with them--without letting them know ahead of time. We ended up with almost the whole family there and it was great! There were so many good things about it all, it makes quite a list.
We were really thankful to be able to be there for the folks' anniversary!
It was our first trip to Lufkin since 2001. We had seen Mom and Dad since then, as they had been to Ohio and to Florida to see us. However, we hadn't seen Jo's son Russ, and his family since our last trip to Lufkin. It was great to see them again and their little girl, Skyler!
We were thrilled to see Brian, Christine, and Michelle again! Mike and Anne hadn't ever seen Michelle at all, and she was only about 1 week old when I left Germany. Needless to say, she has changed a lot! She is sweet and adorable, and very good natured. Here is one of my favorite photos of the ones taken in TX, of Anne and Michelle.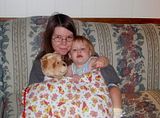 I realized in looking through the photos we took, that there are mostly photos of Michelle, and not much else. Occasionally there is an adult, and sometimes Skyler is in the photo, but I find that I really missed the boat on the photo taking, and so did all the rest who grabbed up the camera now and then to take a photo! Oh well. Brian gave us CD's of photos, and there should be some better selections in among those photos! All the group photos are on the CD too.
In addition to the great fun of getting to see everyone, I think Anne and I agree that the other benefit of the trip was a chance to get away from our usual routine of pt and doc appts. It was nice to be able to almost forget about it all for a few days, and just enjoy being with family.
I am sure I will show more photos here later on, once I have a better chance to go through them all, etc.
In local news, it started to rain Tuesday night---after we got home, after the trick or treating, etc. It rained most of the night and into Wednesday morning. We had 3 inches of rain in the rain gauge. Quite a good haul! I am sure the lawn and the butterfly garden were really happy to have it! The butterfly garden is still doing well. The plants are all doing well, and Mike is making progress at getting the passion vine to climb the arch. I didn't see any butterflies when I was out, but it was early evening--maybe they were resting----haha.
Well, that is it for now, take care and I will try to be better about blogging again!