Happy Birthday, Mom (Walters) and Philip!!!!!
Yes, they share a birthday, but I don't think they have ever met.
Happy Birthday to you both!!!! And many happy returns of the day!!!!
Mom, here are some jasmine blooms for you!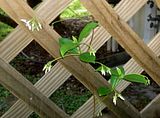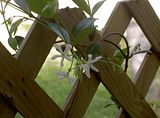 There still aren't very many open yet. I think there are about 6 total open so far, but still plenty of buds on the vines. Yesterday when I was outside briefly, I could smell flower smells, and I think they were from the jasmine. It would have been a pretty smell, if I could tolerate those things!
Let's see, Phil, what would be a good photo for you? I have always liked this one, especially the fact that Mike actually took the photo, it isn't just something from the newspaper or online! I hope you like it too!
I hope you both have great birthdays!!!!!
We tied the old record high yesterday. The record high for the day was set back in 1977! Yes folks, we hit 90 degrees! It didn't feel that hot, not by a long shot. Of course, I was only out of the house a couple of times. The air index was not real good, between the allergins and the temperature, and we stayed in rather than have Anne risk an allergy attack. I think we really must be getting well used to the heat here though---I really wasn't sure if it was going to make it to the 87/88 degrees they were predicting. It actually was warmer here than it was in Orlando. It helps so much that we have the nice breeze, and it was really quite windy yesterday. It does help make it feel cooler.
I had forgotten to mention the baby swans! I see Mike made mention of them in his blog. When Anne and I were coming home from the base on Monday, and were turning on to our street, we saw a mama swan, and 3 babies, at that first lake. We were surprised and excited, as Mike had been watching for babies, and had rarely even been seeing adults, and hadn't seen any babies. We hope he gets a photo op soon! I wonder if the babies are just barely getting old enough to be out?
While on the baby animal topic, we saw on the news that a baby giraffe was born at our local zoo, which is not more than maybe 2 miles from us. They showed pictures on the tv and it is so cute! Well, in the way that most baby animals are cute!
I got the space for Mike's bookcase cleared out in his cave yesterday. Just two more places to clear out, and I will be ready for the bookcases to arrive. I sure didn't want to wait till the last minute! I am so looking forward to having the rest of the books unpacked!
Well, this is getting too long, so I will wish Mom and Phil a happy birthday once again, and close for now!