The Birthday Surprise!!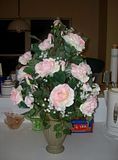 This is what I found in the kitchen when I got up Friday morning! Anne, and Brian, Christine, and Michelle, got it for me for my birthday! It is so very realistic that my first thought was "how gorgeous" and my second thought was "I won't be able to stand the smell"---since I now seem to be allergic to the scent of all flowers. Then I realized I wasn't smelling anything, and moved in closer and saw that they were silk flowers!
As Anne puts it, they are "hypo-allergenic" roses! They are more beautiful than they show in the photo. The color of the flowers is gorgeous! There is the full range of size, from fully open to rosebuds. It will be a lovely way to have flowers in the house!
Now, for a little plug! The arrangement was done by a business owned by the parents of Anne's friend Tandy -
Fleurs per Mail
- in Snohomish, Washington. I can attest to the beautiful work that they do, and it came through the mail in perfect shape!
My heartfelt thanks go to Anne, Brian, Christine, Michelle, and Tandy and her folks!