HAPPY MOTHER'S DAY!!!!!!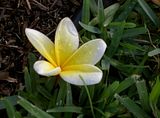 This is the photo of the single frangi pani flower in the grass, the one I mentioned the other day! They are so pretty! No wonder the Hawaiians use them so much for leis!
I hope all the Moms have a great day! I wish we could be with all of you at the same time, and that all the kids could be with us too!
As you will have seen from Mike's blog, we made a quick trip to the zoo yesterday. Mike led us to parts that we hadn't seen before, so we saw the jaguar, and the monkeys, and the wallabies, and all kinds of cute critters! We also made it into the free flying bird area. They have all the extra doors, etc, to help keep the birds from getting away. They have some very interesting birds in there, and Mike took lots of photos. As we were getting close to the far side of the enclosure, we noticed a bird on the door, and people trying to get out without letting the bird out. The bird did get out, and an intern went and managed to retrieve it. He came back in with the bird, took a look at Anne, and put the bird on her head! She had a great time, and Mike took lots of photos. Then, with very little fan fare, the bird did what birds do. It was so quick and unobtrusive, I wasn't really sure at first that it really happened. But it did. Fortunately, it was a small amount. The silly bird did manage to get her hat, her shirt and her shorts. Triple whammy, eh? We were about done anyway, so headed home not long after that!
One funny story from our time at the zoo. At one point Anne was hot and thirsty, and we got her a drink. Anne and I sat at a bench near the ponds with the flamingos, scarlet ibis, etc. Mike was over taking pictures of the birds. He overheard some women telling her kid/s that the scarlet ibis are baby flamingos! I guess she hadn't looked at the identification plaques that identify all the birds! Oh dear.
I hope all of you Moms (!!) have a great day! Love to you all!