Wedding--Part Two
Before leaving the wedding totally, I wanted to put in some photos from the event! Our little old digital camera is such a treasure---I took the photos of the dancing while sitting at our table, several feet/yards away. I just used the zoom to get in closer. As usual, you can click on the photos for an enlarged version!


Anne and Hilary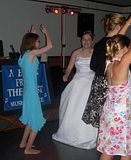 You can't have a party without the song "YMCA"!!!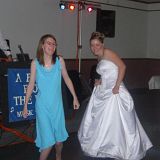 Hilary isn't really taller than Anne. Anne is in bare feet, as you will have noticed in the one dance photo, and Hilary is wearing these big platform flip flops! Her dress was too long, and could only be shortened a little bit because of beading. So she had to wear tall shoes. All the women of the wedding party had these fun flip flops for the reception, to spare their feet further torture! I thought it was a brilliant idea!
You will see how much weight Anne has lost. Hilary is an athletic, slender-ish young woman. Anne was amazed to see the photos and how thin she looks next to Hilary---not that she hasn't always been thin, but of course, she is even thinner now. Just think of the fun she will have putting the weight back on! We are hoping maybe the Endocrinologist can sort out the problems with lack of appetite she is having---or getting Malco the tumor removed will do it. I know she will be thrilled to be hungry and be able to eat like she used to!